Yoon Administration's Policy Priorities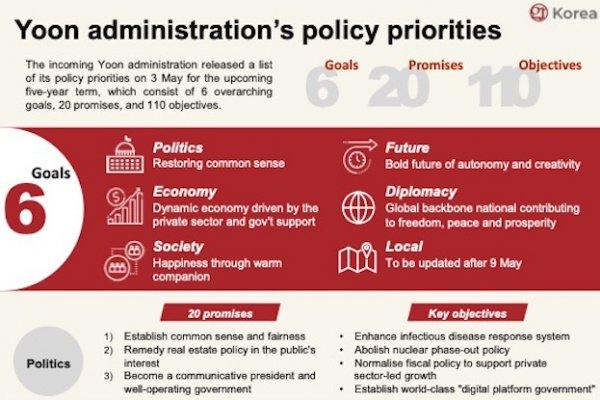 The incoming Yoon administration - which will take office in only a few days - has released a list of its policy priorities on May 3 for the upcoming five-year term. This list of 110 goals will constitute the achievements the new administration will most try to pursue, over other policies. The goals are categorised in 6 key overarching fields and objectives: politics, economy, society, future, diplomacy, and local. The basic principles underlying these goals are "national interest", "practicality", "fairness" and "common sense" with the national vision of "Korea leaping forward again, a nation of people living well together".
GR Korea, part of The GR Group, provides professional government relations and public affairs services in Korea including stakeholder and issue mapping, policy monitoring, intelligence gathering, advocacy, support for public procurement, and public affairs campaigns. For more updates on the Korean policy landscape, please follow our LinkedIn page.